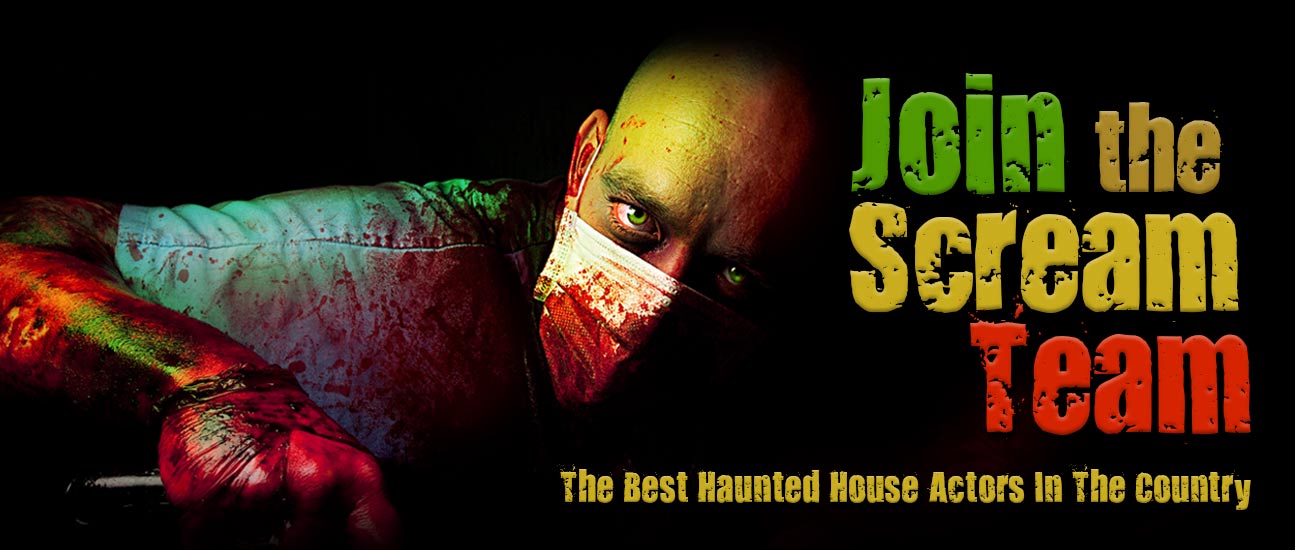 FEAR ITSELF
Join the SCREAM TEAM
America's Best Haunted House Team!
SCARE PEOPLE & HAVE THE TIME OF YOUR LIFE!
Fear Itself at Legend Park is one of the TOP RATED Haunted Attraction Shows in America.
With nearly 200 volunteer actors and support staff, our team puts on one of the most electrifying, intense and entertaining shows anywhere. We are consistently voted among the Very Best Haunted Houses in the country. As we continue to grow we are constantly looking for additional talent (YOU) to help us improve our already spectacular Team of people.
We recruit all year but especially in the fall (yes, even during the season while the show is running).
Most positions are volunteer.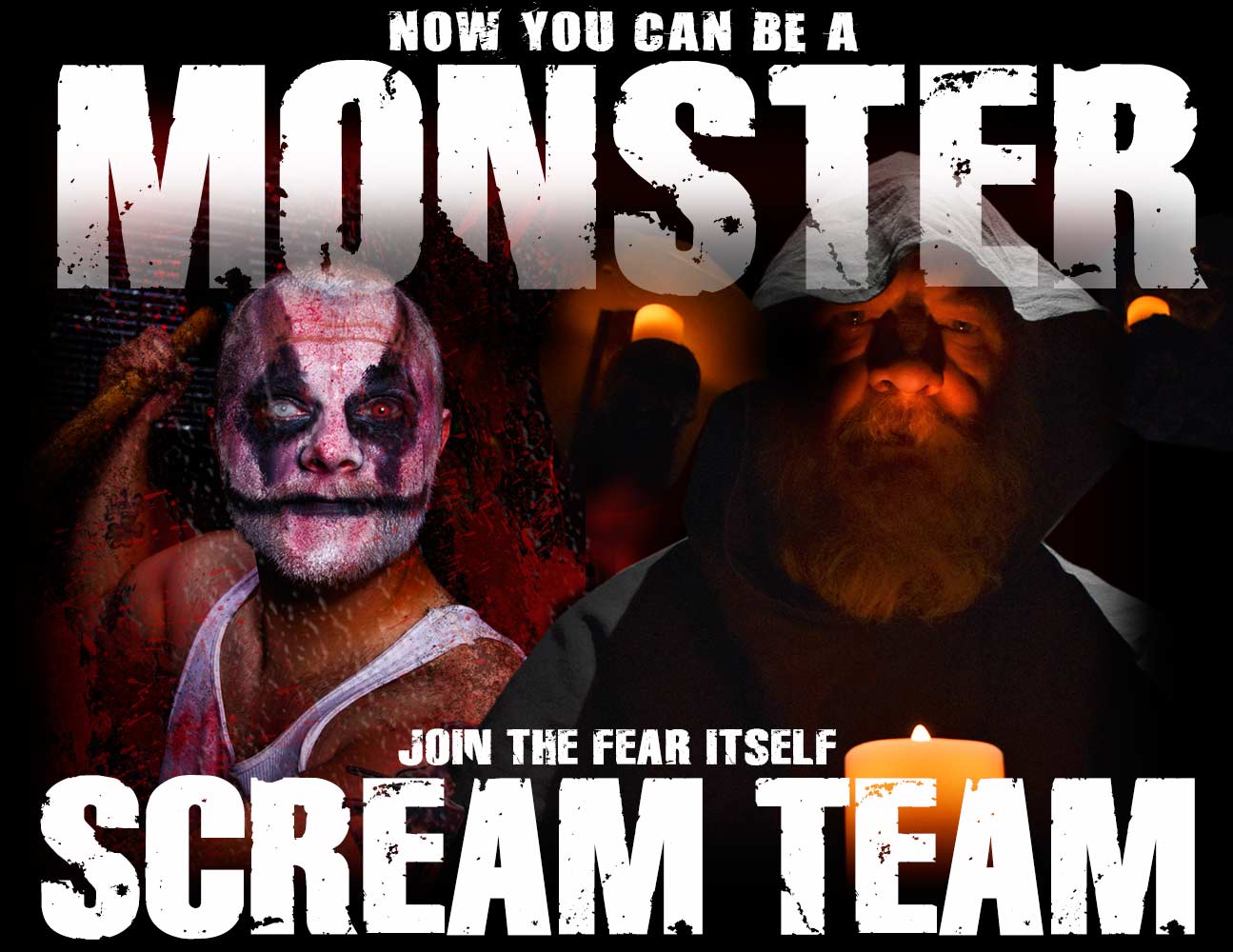 FEAR ITSELF
WHAT'S IN IT FOR YOU?
SCARE PEOPLE
MAKE NEW FRIENDS
ENTERTAIN THOUSANDS OF PEOPLE
BE PART OF ONE OF THE BEST SHOWS ON THE PLANET
BE PART OF A FAMILY
MAKE MEMORIES THAT WILL LAST A LIFETIME
HAVE THE TIME OF YOUR LIFE!
WHAT WE LOOK FOR
HONESTY
UNIQUE PHYSICAL CHARACTERISTICS:
Tall, Short, Heavy, Thin, Scrawny, Muscular... You're perfect here!
UNIQUE VOICE TALENTS
We Love Diversity. It makes Us and Our Show Better!
We accept and appreciate people of all colors, religions, educations, ages, shapes and sizes.
We do not discriminate on any level!
WHAT ARE YOUR TALENTS?
Acrobats, Tumblers, Cheerleaders, Gymnasts
Actors – From Theatrical to Haunter
Artists
Athletes
Comedians
Contortionists
Dancers
Face Painters
Magicians
Mimes
Musicians
Photographers
Sculptors
Set Designers
Storytellers
OTHER EXPERIENCE
Audio Professional
Clerk / Ticket Sales
Concessions or Food Professionals
Construction & Set Design
Electrical
Janitorial
Mask Making
Parking
Retail
Robotics / Animatronics
Security
Sewing / Seamstress
Video Editor & Videographer
Wardrobe / Costumes
Welding
Get the idea?
We want all types of great people!
However, Here's what we don't want…
Drama, Baggage, Attitudes, Disrespect, Complacency and Laziness.
If you want to join Our Team… leave that junk home.
For most positions you need not be experienced to participate in our amazing show.
However, you must have a great attitude, good work ethic and a desire to be the best.
Just Show Up With A Great Attitude and
You Will Be Successful!
APPLY NOW
Message us on Facebook visitthelegend
or further information call us at 574.256.6666
Please remember that most of or positions are temporary and volunteer
GET READY- FEAR IS HERE!
A FEW OF OUR BIGGEST STARS... PAST & PRESENT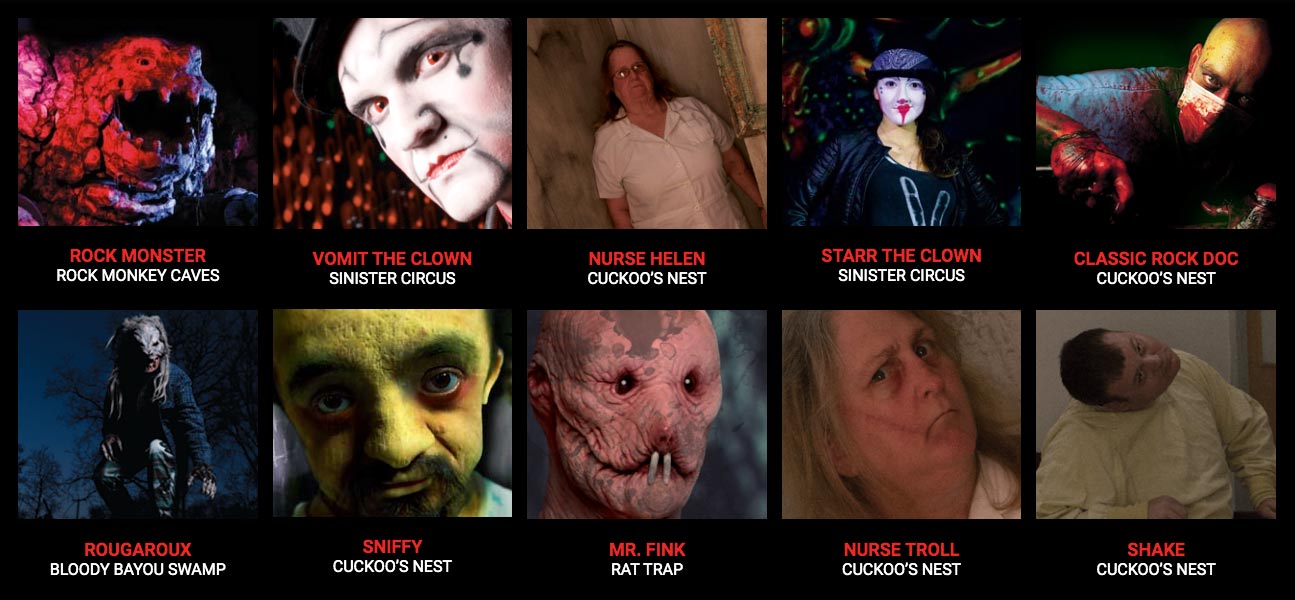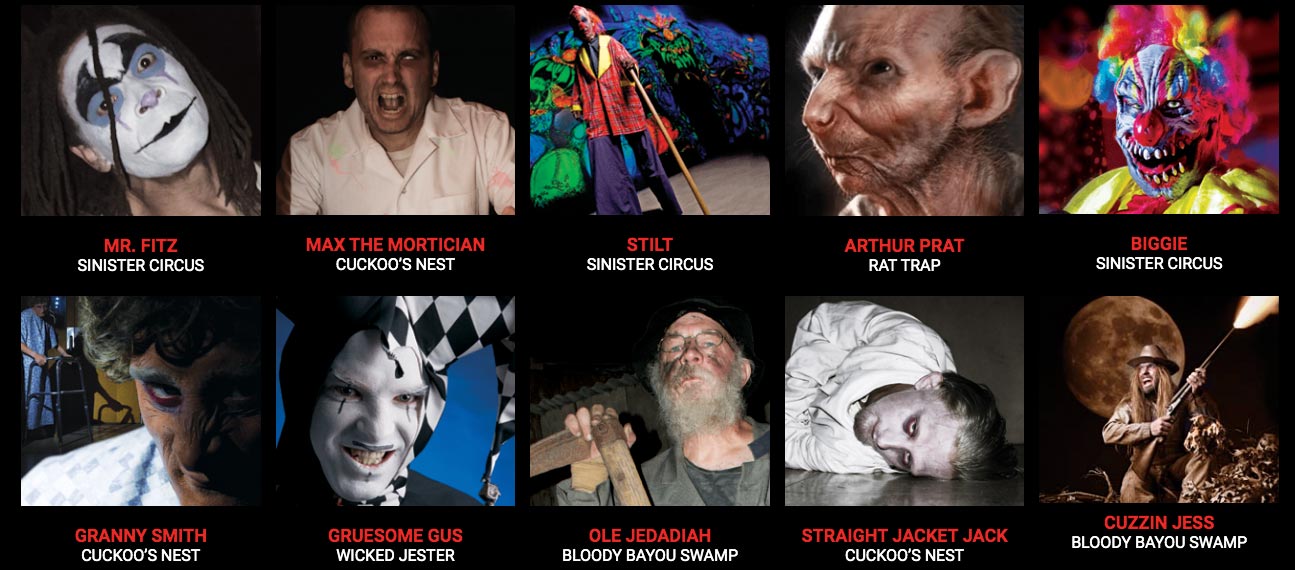 FEAR ITSELF
FREQUENTLY ASKED QUESTIONS BY ACTORS
Q: Is this a paid position or volunteer?
A: Most of our positions are volunteer positions.
Q: What should I bring to an audition?
A: You will need your social security #.
Your availability for the dates and times we are open (see our Dates & Hours Section)
Comfortable clothing (no open toe shoes, no heels)
A great attitude… We provide pretty much everything else
Q. What is involved in the Audition/Interview/Application Process?
A. You will first complete a short, easy to fill out application
You will be asked questions about your talents, availability, abilities and interests (among other things)
You may be asked to scream or maybe deliver a line or two.
You may be asked to jump, turn, flip… or other things based on where we think you might fit
A quick photo may also be taken for reference
Q. Do I need Haunted House or acting experience?
A. Experience is not usually required because we work with you to help you develop your parts (if you are an actor)
However, you do need a great attitude and some passion won't hurt either
Q. What if I would like to be a part of the Team but I Don't want to act?
A. There are many ways to be a part of the team. We need Security, Parking People, Concession People, Retail Professionals, Midway Game Attendants, Makeup Artists, Face Painters, Set Designers, Costume Makers and a myriad of other positions filled
Q. Should I arrive before my Audition Time?
A. Yes. You should arrive approximately 30 minutes prior to your audition to complete your application
Q. Do I need a valid driver's license?
A. No. However you will need some form of reliable transportation
Q. What Types of Haunted House Acting Roles are there?
A. We have several different Attractions with a variety of different roles. We also have Midway Monsters.
You could perform parts ranging from a clown or acrobat in Sinister Circus, to a Rougaroux (werewolf) or Inbreed in Bloody Bayou Swamp.
You might find yourself in one of the unique roles in the RAT TRAP such as a Rotting Night Walker, one of the Rat People, the Militia or even the Rat Keeper himself.
If you end up in the Cuckoo's Nest you could be a scary nurse, a sadistic doctor or a very sick patient.
There are several roles in the new Taken Attraction… all very interactive.
if you love to scare people you might end up in the dark and dreary Rock Monkey Caves.
All in all, the Fear Itself at Legend Park Show has some of the Best and Scariest Haunted House Actors in the industry
Q. Is there an age limit?
A. You must be at least 14 to apply and cannot be older than 150 without a parent or guardians position. Anyone 15 or under will need written permission from a parent or guardian
Q. Will I perform during all days and hours that the show is open?
A. That depends on your schedule, your part and any pre-arrangements that are made
Q. Is there Haunted House Actor Training or Assistance?
A. Yes. We offer initial training for your role (some require more guidance than training) and we continue to advise, direct and push you to get better.
Q. Is Safety an Issue?
A. Yes. We put safety first. Not just the safety of our guests but the safety of actors as well. Accidents happen but we do what we can to minimize injuries and accidents in general.
We realize that guests can sometimes get overzealous or rowdy or even unruly. We have no problem having guests escorted off of the property by management or by law enforcement.
Q. Do you reward Actors and Staff?
A. First we provide food and beverages to actors most every day or night.
We typically have an Actor Appreciation Party for recognition and fun. Every year we try to do fun things for our team. However, we believe, the effort that you put in will come with many types of rewards.
Don't Miss the Opportunity to Join the Fear Itself SCREAM TEAM!
Have the time of your life and make memories you will never forget!
Call 574.256.6666