KEEPING YOU SAFE... KEEPING LIFE FUN!
At Legend Park our main priority is always to ensure our guests are safe and don't get injured, With 2020 comes more diiligence as we must be mindful of COVID-19. Therefore we have implemented several safety protocals to ensure we do just that. Of course our secondary goal is to ensure that when you visit Legend Park we deliver you fun and precious memories that will last a lifetime!
Please remember that due to current circumstances, Legend Park has decided to limit the number of guests that will experience this year;s show, so if you're a big haunted house fan (or of course a fan of Fear Itself) make certain you order your tickets right away. We have made it easy by offering online ticket sales as well as phone sales, both at substantial discounts! Please take the time to read the safety information below and let's have a safe, fun and exciting Fear Itself Season!
We are only open 13 DAYS this season. See our calendar for dates and hours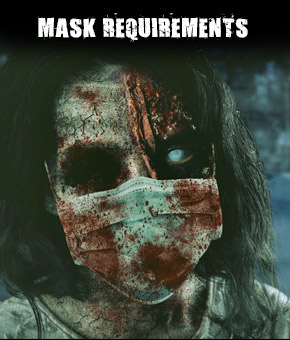 MASKS FOR GUESTS & STAFF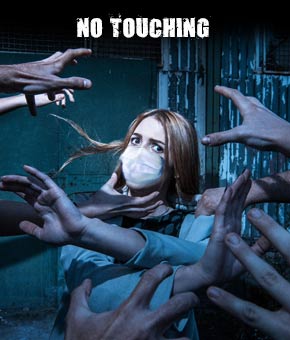 2020 NO TOUCHING POLICY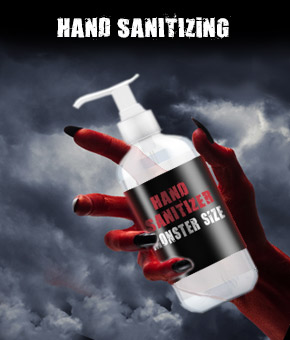 HAND SANITIZING & WASHING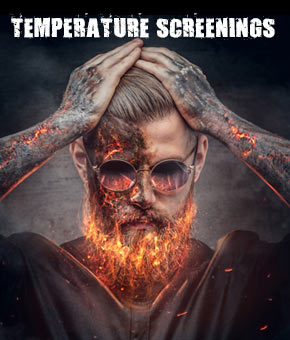 CONTACTLESS TEMPERATURE SCREENINGS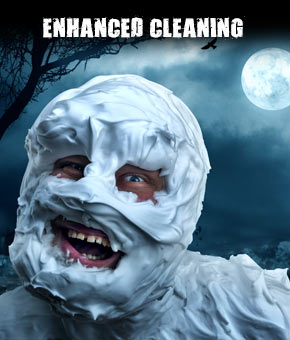 ADVANCED SANITATION & CLEANING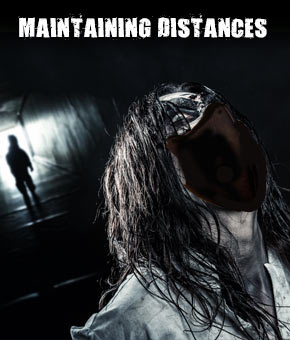 SOCIAL DISTANCING
IMPORTANT INFORMATION – PLEASE READ
Yes, Fear Itself at Legend Park Will Be Open for the 2020 Season
As many of our guests already know, Legend Park has always been committed to putting safety first. From our advanced fire protection system, ongoing staff training… even sanding rough wood in our attempt to minimize injuries and accidents. This year, due to the COVID-19 issues we've stepped our safety protocol up even more (see COVID-19 Safety Protocols below). While safety is our priority we still focus on the quality entertainment that we are know nation-wide for delivering… and that quality has not been compromised for the Fear Itself 2020 Show!
While you may notice changes due to circumstances you will also enjoy yourselves just as always!
Below are measure we are taking to increase your protection. While this is certainly not the all-inclusive list of what we've done, it at least gives you a general idea so that we might set your mind at ease so you can better enjoy the Fear Itself Show.
In actuality, there are some 2020 changes that we believe wi;; make your visit even more enjoyable.
Our capacity will be cut by more than 50% this season which means more focus on the customers that do visit.
In many, (not all) cases this means shorter wait times for guests.
We are strongly suggesting that guests purchase tickets online or by phone (574.256.6666). This first ensures that you get your tickets for the nights you want (SOME EVENTS ARE CERTAIN TO SELL OUT), and it also minimizes wait lines at the ticket office and helps us provide more distancing.
With fewer people on property it also ensures better and easier parking. In addition there will be smaller groups (friends, family and/or the group you arrived with unless you prefer to be joined with others) and there will be more spacing between groups.
While many are stressed with the additional rules and regulations, we are actually excited for the season. We have worked hard to make Legend Park safer and more enjoyable… for YOU!
Thank you all for your excitement about the 2020 season and for your enthusiasm!
Singleton's Legend, LLC Management Team
COVID-19 SAFETY PLAN:
Please Read Carefully BEFORE PURCHASING YOUR TICKETS!
LET'S ALL BE SAFE TOGETHER

At Legend Park our goal is to meet or exceed Federal, State and Local regulations and guidelines related to COVID-19. We have worked hand in hand with local and state government agencies to develop a comprehensive COVID-19 safety plan to ensure customers and staff follow best practices of hygiene and COVID-19 safety at our facility for the 2020 season.
Below are the guidelines and general rules which we have been implemented for the safety of all customers and staff:​​​​​​​
LEGEND PARK ATTENDANCE WILL BE LIMITED TO 50% (OR LESS) PROPERTY CAPACITY​​​​​​​
According to CDC guidelines park attendance will be limited to 50% of park capacity.​​​​​​​

WE STRONGLY RECOMMEND THAT GUESTS PLANNING TO ATTEND PURCHASE THEIR TICKETS BY PHONE OR ONLINE
There are many advantages to pre-purchasing your tickets, including:
You are guaranteed entrance to the events
There will be shorter wait times
There is less contact with other guests
ALL CUSTOMERS AND STAFF MUST WEAR A FACE COVERING INSIDE ATTRACTIONS
WE ENCOURAGE YOU TO WEAR FACE COVERINGS OUTSIDE BUT THAT IS NOT A LEGAL REQUIREMENT
According to CDC guidelines all customers must wear a face covering inside and where social distancing is not possible.
Customers are not required to wear a face covering in our outdoor midway or in our outdoor attractions if they can maintain social distancing. Customers are not required to wear a face covering while eating, drinking or smoking (in designated areas).
Customers must wear a face covering indoors & during outdoor e-lines.
Staff are required to wear a face covering at all times.
A face covering:
Must cover your nose and mouth and be secured under your chin
Must fit snugly against the sides of your face and be secured with ear loops or secured around your head
Must be at least two-ply (consist of at least two layers)
A face covering must:
NOT include mesh material or holes of any kind
NOT have exhalation valves
NOT be missing ear loops or fail to be secured around your head (the face covering must be hands free)
If you do not have a face covering, you may purchase one at the gift shop for $1
Young children are not required to wear a face covering.
NOTE to those that have disabilities that prevent them from wearing a face covering:
CDC guidelines state that you must use of a face shield in lieu of a face covering. The face shield must cover your nose and mouth, wrap around the sides of your face and extend to below your chin. You may wear the face shield while in the Monster Midway and the e-lines. However, every customer must wear a face covering (not face shield) inside the attractions.
If you do not have a face shield and need one, they will be available in Cuckoo's Collectibles Gift Shop for a reasonable price.
WHENEVER POSSIBLE, CUSTOMERS MUST ENGAGE IN SOCIAL DISTANCING WHILE ON PROPERTY
According to CDC guidelines social distancing is required. Social distancing is defined as being a minimum of 6 feet from others who are not from your household.
In general, customers must not engage in physical contact including handshakes, fist bumps, hugs, etc.
The Fear Itself E-lines have been re-designed to promote social distancing. E-Lines have been identified so that they indicate where guests should be while waiting for attractions.
While inside attractions, guests must socially distance themselves from other groups of customers. A staff member at the entrance of each attraction will assist customers to ensure they do not enter the attraction too close to another group. Guests must refrain from touching props or walls or actors.
Please note that guests may not be able to social distance from actors while inside our attractions. However, our 2020 policy is different than previous years, ACTORS CANNOT INTENTIONALLY TOUCH GUESTS. Guests who are not comfortable being within 6 feet of a monster should refrain from visiting Legend this season.
Please note: Everyone including the Legend Park management team understands that due to the inherent nature of entertainment venues, social distancing may not always 100% possible. This is true of most anywhere we go and Legend Park is no different.
EVERY CUSTOMER AND STAFF MEMBER MUST PASS A TEMPERATURE CHECK BEFORE ENTERING LEGEND PARK
According to CDC guidelines customers and staff with a temperature of 100.4 degrees Fahrenheit are considered to have a fever.
All customers will have their temperature checked before entering the park. A customer whose temperature is 100.4 degrees Fahrenheit or greater will be given the opportunity to return to their vehicle to cool down. If the customer cannot pass a second temperature check, they will not be admitted the park and must leave immediately.
Staff members will also have their temperature checked before starting work each day, according to the same protocols.
HAND SANITIZER WILL BE AVAILABLE THROUGHOUT THE PARK, AND WILL BE REQUIRED BEFORE EACH ATTRACTION
According to CDC guidelines hand sanitizer will be available throughout our park and customers will be required to apply hand sanitizer before entering the park and before entering each attraction.
LEGEND PARK HAS INSTITUTED INCERASED CLEANING PROTOCOLS
In addition to regular cleaning protocols and according to CDC guidelines Legend Park has increased the number of janitorial staff to ensure that commonly used surfaces are cleaned regularly.
There will be cleanings throughout the evening on open nights (between some parties)
Toilets will undergo additional disinfectant cleanings throughout our operating hours.
Disinfectant fogging will be used after operating hours to further enhance our cleaning protocols.
OUR ATTRACTIONS HAVE BEEN MODIFIED TO REDUCE TOUCH POINTS AND TO ENHANCE SANITATION
Although we have taken extra measures to do so, please refrain from touching props and walls unless absolutely necessary. We do understand that incidental contact with props and walls while inside attractions will take place.
CUSTOMERS OR EMPLOYEES WHO ARE FEELING SICK SHOULD NOT VISIT LEGEND PARK
According to CDC guidelines customers and employees who are feeling sick or unwell should not visit our facility until they are feeling healthy and well.
PLEASE REFRAIN FROM VISITING LEGEND PARK THIS SEASON IF:
-YOU HAVE TESTED POSITIVE FOR COVID-19...
-IF YOU LIVE IN THE SAME HOUSEHOLD AS ANOTHER WHO TESTED POSITIVE FOR COVID-19 THOSE
-IF YOU HAVE COME IN CLOSE CONTACT WITH ANOTHER WHO HAS TESTED POSITIVE FOR COVID-19 PLEASE DO NOT VISIT LEGEND PARK
If you have tested positive for COVID-19, you must refrain from visiting our facility according to CDC guidelines.
If you live in the same household as another who has tested positive for COVID-19, you must refrain from visiting our facility according to CDC guidelines.
If you have come in close contact with another who has tested positive for COVID-19, you must refrain from visiting our facility according to CDC guidelines.
OUT-OF-STATE VISITORS MUST COMPLY WITH TRAVEL AND QUARANTINE RESTRICTIONS
According to CDC guidelines out-of-state travelers must comply with state and local travel restrictions and must comply with mandatory quarantines before visiting our facility. Because of the potential for restrictions to change quickly, it is the responsibility of each out-of-state visitor to monitor state and local government orders to ensure they stay in compliance with applicable travel restrictions and mandatory quarantines.
OLDER ADULTS AND THOSE WITH UNDERLYING MEDICAL CONDITIONS MAY WANT TO REFRAIN FROM VISITING OUR EVENT
According to CDC guidelines older adults and those with underlying medical conditions are more susceptible to severe illness and complications should they contract COVID-19.
Because exposure to COVID-19 is an inherent risk in any public location where people are present, and because people who show no symptoms can spread COVID-19 if they are infected, and because we cannot guarantee you will not be exposed to COVID-19 at our park, older adults and those with underlying medical conditions may want to refrain from visiting our event. It is the responsibility of every attendee to evaluate their own risk in attending our event.
ADDITIONAL SIGNAGE WILL BE PRESENT AT OUR PARK, REMINDING VISITORS TO FOLLOW OUR COVID-19 SAFETY PROTOCOLS
We have implemented additional signage throughout Legend Park to remind visitors to follow our COVID-19 safety protocols. The signage will be located throughout Legend Parkas a reminder to our guests.
NOTICE: EXPOSURE TO COVID-19 IS CONSIDERED BY THE CDC TO BE AN INHERENT RISK IN ANY LOCATION WHERE PEOPLE ARE PRESENT AND WE CANNOT GUARANTEE YOU WILL NOT BE EXPOSED DURING YOUR VISIT.
Other Important Information
Not related to COVID-19
RIGHT AND RELEASE:
AS A CONDITION OF PURCHASING YOUR TICKET, YOU AGREE TO THE FOLLLOWING:
You agree to give Singleton's Legend, dba Legend Park your permission and full rights to take pictures and video or ausio recordings of you while on Legend Park property.
You give Legend Park and its affiliates the sole right to use these images as they see fit as part of your agreement when purchasing your ticket or upon admittance.
You understand and agree that you authorize Legend Park personnel to remove you from the property, without refund if any of stated rules are not followed
You agree there are NO REFUNDS, DISCOUNTS or RAIN CHECKS
You agree to enter this property and these attractions at YOUR OWN RISK!
Ticket purchasers and holders voluntarily assume all risks and dangers associated with participation on this property and in these attractions
IMPORTANT:
Your ticket is a revocable license and may be taken and admission refused upon refund of purchase price. In consideration and acceptance of entrance onto this property the ticket holder agrees to release the operator, it's parent corporations, affiliates, officers, directors and employees from: any liability, harm, injury or death, cost or expense whatsoever that may arise directly or indirectly, from attending this attraction or any of the attractions at this location